Zuojiazhuang Street holds"Family Public Welfare Day" series activities
人民网
2019-09-24 14:26:58
Author:苏菁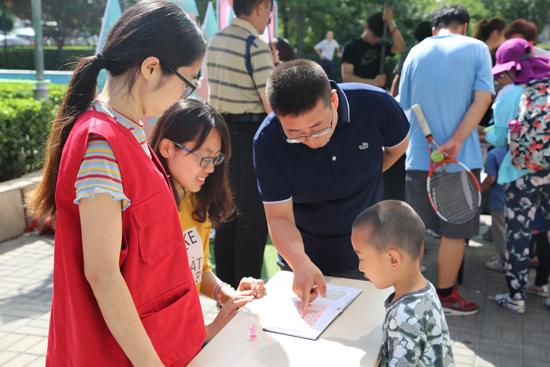 On the morning of June 29, parent-child public welfare activities of "Little Big People" were held in Tianhong Mall Square on Zuojiazhuang Street Family Public Welfare Day. More than 50 families of working party members, young parents and poverty alleviation families took part in the activities in 9 communities of Zuojiazhuang Street.
The parent-child public welfare activities with the theme of "Little Big Man" are carried out in the form of breaking through barriers. Every link is designed around the public welfare theme so that parents and children can feel the power of public welfare in a fun experience. This theme activity is also the first part of Zuojiazhuang Family Public Welfare Day series. The Family Public Welfare Day activities will be held on the last weekend of each month after that. The themes of each issue are "Natural Discoverer", "Life Enlightenment Course", "Welcoming the 70th Anniversary of the founding of China", "I have a date with Zuojiazhuang", "Warming you with my love" and so on.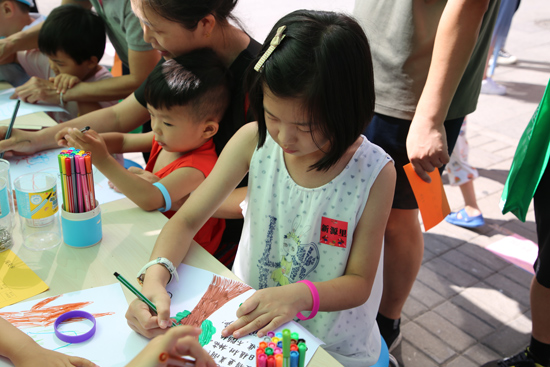 Through a series of parent-child public welfare activities, Zuojiazhuang Street calls for more community youth to participate in street work and social governance, effectively broadening the ways of community youth participation in community governance, and constantly stimulating community vitality.
According to the introduction, Zuojiazhuang Street Family Public Welfare Day is a part of the Street "Double Public Welfare" Activities - "Family + Social Public Welfare Day". Family Public Welfare Day activities are dominated by families in the jurisdiction area, and social public welfare day activities are dominated by enterprises in the jurisdiction area. At the same time, the street actively explores the incentive and feedback mechanism of voluntary service, formulates the "Zuojiazhuang Street Volunteer Integral Feedback Program", deeply integrates "Internet+", and develops the "Zuojiazhuang Love Volunteer" small program. Volunteers can register directly in mini programs and accumulate time and points. Volunteers' points can be converted into goods and services. Enterprise points can be converted into government services.
Through the "double-incentive" mechanism of the volunteer integral feedback incentive and the "most beautiful Zuojiazhuang people" selection activity at the end of the year, Zuojiazhuang Street explores the "triple action" of enterprises, families and communities, maximizes the encouragement of enterprises and families in the jurisdiction to participate in the work of the streets, improves the way for young people to participate in community governance and solves the problems of environment, parking, old-age care, property services and other problems existing in the community, as well as the problems of old-age community workers.
In the future, Zuojiazhuang Street will continue to explore the new model of social mobilization and social governance, and further enrich the public welfare and cultural life of the streets in the light of the civilized practice of the new era of the street.